Android apps on the big screen? Game Stick makes it happen!
What are the biggest issues facing big-screen console gaming?
Initial price? The two next-gen systems will set you back $400-500 and that's before you add any accessories or game titles, let alone subscriptions.
Game prices? A-list titles are $50 to $70 a pop. That can quickly add up to some serious money.
Portability? To take your favorite game to a friend's house, either you packed up the whole unit in the box or you had to have the same system as them. And now even that may not be an option for future owners of the new X-Box One.
Gaming Scenario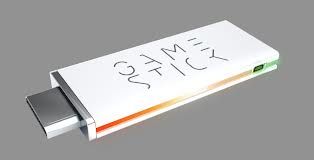 Imagine walking into your friends house and he has an amazing 60″ HDTV, but no game system to play on it. You reach into your pocket and pull out a curious little HDMI device. No, this is not a USB memory stick. It's something much more.
You snap Playjam's Game Stick into their TV's HDMI port and pull out your Game Stick wireless controller. Suddenly, the big screen comes to life with a menu of the hottest Android game titles in full 1080p.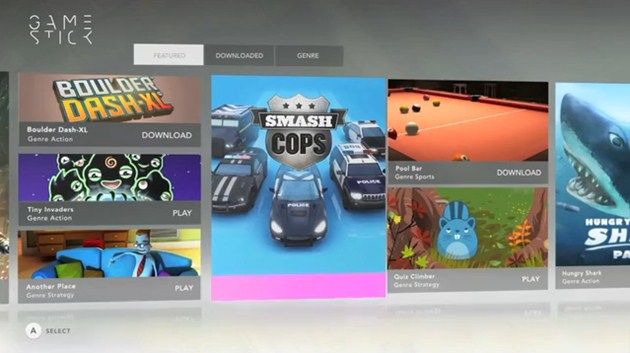 From this fairly familiar style of menu, you just select your title and go. The game is downloaded to your unit, broadcast via Bluetooth 3.0 to the HDMI device and viola.
Big screen console gaming in one of the smallest packages ever.
Portable Power
An Amlogic processor is at the heart of the Game Stick, driven by Android's Jelly Bean 4.2 operating system. It sports 1GB DDR3 memory and 8BG FLASH for storage.
Their Content Download Manager allows for cloud storage of your titles. Bluetooth 4.0 and a 802.11N Wifi connection for fast transfer and communication.
The Game Stick can support up to 4 controllers, so you don't have to play solo and with full 1080p HD video, you can play together on the big screens.
Even More Horsepower in the Garage
Game Stick also offers the Gamestick Dock. This device not only will act as a charger, it packs another 64GB in storage space and has an array for hardware connections.
How about an Ethernet hardline for faster connections? USB ports allows for full-size keyboard and mouse devices, or a camera or even a microphone.
Kickstart My Heart
Like a number of independent start-ups, Playjam took their project to the people. After developing games for Pay TV and free-to-play systems for SmartTVs, they developed this fully portable system.
The project met their goal in February with the target of having units ready by April.
Affordable
Pre-order prices are $79.99 for the Game Stick plus one controller. That's nearly the price of just 1 next-gen game.
Additional controllers are only $39.99, but the Game Stick supports using Android or iOS devices to function as controllers, too.
The Game Stick dock is also priced at only $39.99.
Units can be pre-ordered at www.gamestick.com
Is This Mobile Gaming's Next-Gen?
The advent of such devices like the Game Stick and the narrowing of the gap between traditional console gaming and mobile apps might have heated up the race but this is still like comparing dirt track vs. Formula One.
The big boys have massive horsepower with the big graphic processors, A-list titles, huge storage capacity, multi-player networks etc. So, don't expect to see Microsoft or Sony give up ghost any time soon.
But, with more startups like OUYA and Game Stick the race is about to get a bit more crowded and the new guys are catching up.
Source
http://gameskinny.com